Sign-up FREE
Strategic Planning 101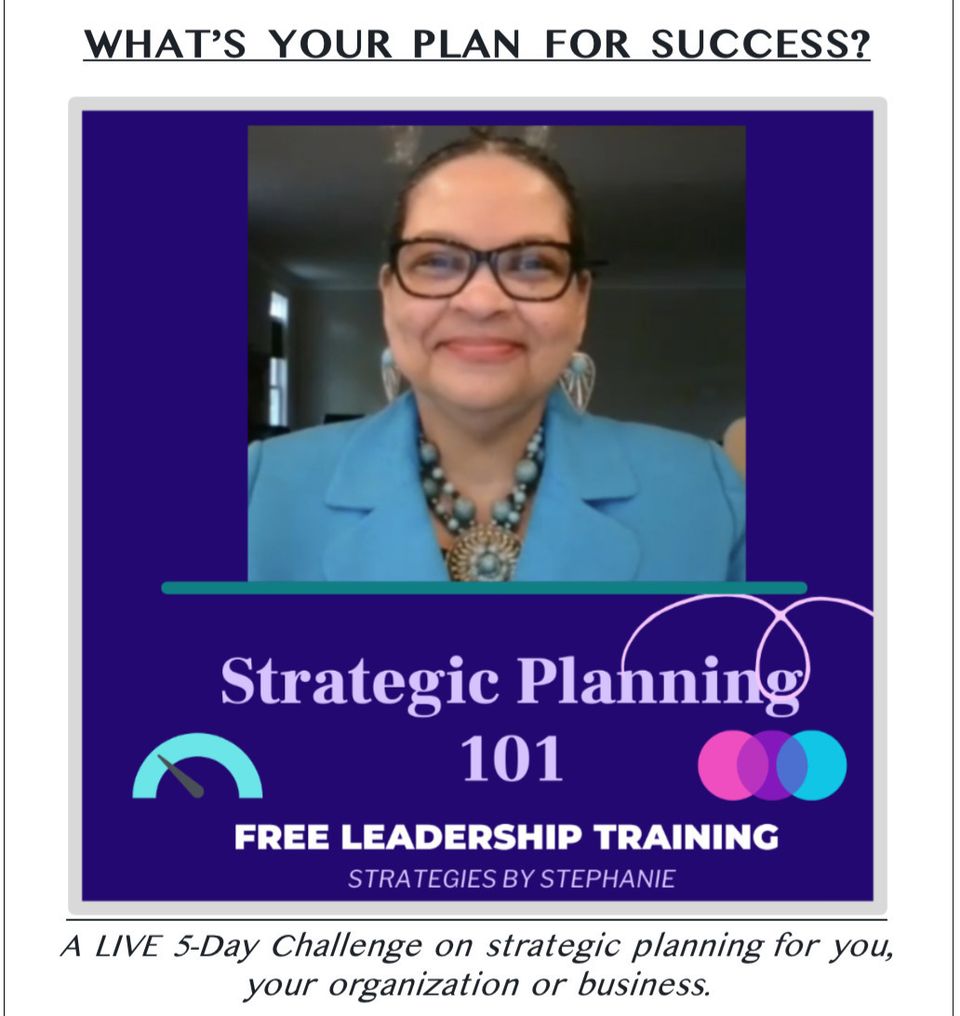 FREE Training:
Strategic Planning 101
Sign-up FREE


https://signup.com/go/cvxuqLg



Who should attend:
This training is designed for organizational leaders; however, I've found that everyone can benefit by acquiring knowledge of the importance of strategic planning.

Training Dates: 
October 18 - 22, 2021

Training Time:
11:00 a.m. - 12:00 noon (EST)

Training Location:
Facebook LIVE
(A link for the training will be sent to you by email after you sign up.)

Sign-up FREE


https://signup.com/go/cvxuqLg
You will learn about strategic planning and its importance.   I will introduce you to the six steps in creating a strategic plan that works. We will discuss administrative, fiscal, operational, and logistical challenges you have seen occur or may occur on a daily, weekly, or monthly basis within your organization. We will examine ways strategic planning will help to alleviate or eliminate these occurrences.
Lastly, leaders will create a course of action towards efficiently improving their plan for success. You will find out that a strategic plan takes care of tomorrow. It is your compass. It keeps you "On POINT." It is your plan for success.
The training will teach you:
1.  What is strategic planning?
2.  Why is strategic planning important?
3.  How will a strategic plan benefit you?
4.  What are the advantages of having a strategic plan for you, your organization, or
     your business, and what are the consequences of not having one?
5.  What are the steps to put your strategic plan together.
Sign-up Free
Click Below
STRATEGIC PLANNING 101
FREE LEADERSHIP TRAINING
Oct. 18 - 22, 2021
Time: 11:00 a.m. to 12:00 p.m. noon (EST)
Reserve Your Front Row Seat Now!
REGISTER FOR YOUR FREE TRAINING!

REGISTER FOR FREE!


https://signup.com/go/cvxuqLg



Strategies By Stephanie
Helping to identify and solve administrative, fiscal, and operational problems within your organization. 

Who Should Attend:
This training is designed for organizational leaders, however, I've found that everyone can benefit by gaining knowledge of the importance of strategic planning.

REGISTER FOR FREE!


https://signup.com/go/cvxuqLg
I am so excited that you have decided to sign-up for this training. I truly believe this training is for the masses because living and leading without strategic direction hampers reaching all goals, objectives, and your mission. I created this training to provide leaders another opportunity to become better leaders by learning the steps necessary to develop a unique strategic plan. My vision is that you will create direction for those who follow you.